Taste of the Caribbean Is Coming to Preston
Posted on 18th November 2014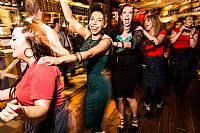 We are pleased to annonce that a boutique restaurant group that captures the vibrant, laid back soul of authentic Caribbean dining is set to open on Preston's high street.
Turtle Bay Caribbean Restaurant will open its doors to the public on 27th November, their first venture into Lancashire. The company has snapped up prominent premises at Crystal House, Cheapside, in the heart of Preston's city centre, overlooking the flag market. The 175 seater restaurant will occupy the 6,875 sq ft ground floor and basement premises on a 25 year lease from a private client of Peloton Properties, with Robert Pinkus & Co. LLP and Cheetham and Mortimer acting as joint agents on behalf of the landlord in the negotiations.
The Preston restaurant will be their second restaurant in the North West, alongside their Manchester branch. The restaurant will create 60 jobs for the city centre and will feature a large restaurant space, central island bar and an indoor 'veranda' bar, designed to accommodate everything from long, lazy lunches to loud, proud parties.
Ajith Jayawickrema, Turtle Bay founder commented, "We're particularly excited to be opening our Preston restaurant. I think it's a city that will really 'get' the concept with its 'no nonsense' attitude and big student population. I'm looking to bring something new to the food scene. Turtle Bay is about great food and good times, simple as that!"
Joe Assalone, Partner at Robert Pinkus & Co. said, "A restaurant offering a mouth-watering array of authentic Caribbean dishes and cocktails is a fantastic addition to Preston's high street and a great boost to the leisure facilities on offer in the city centre.
"We are constantly looking for ways to enrich and widen the lifestyle and entertainment choices for shoppers and visitors to Preston, and for exciting opportunties that complement the existing retail in the city core. The opening of Turtle Bay is testament to the fact that confidence is starting to return to Preston's leisure market which is great news for the city centre and hopefully more diversity and take up of other empty properties on Preston's streets will follow."
Share this article
Back To All News