New Blackpool Business Development Launches
Posted on 19th June 2017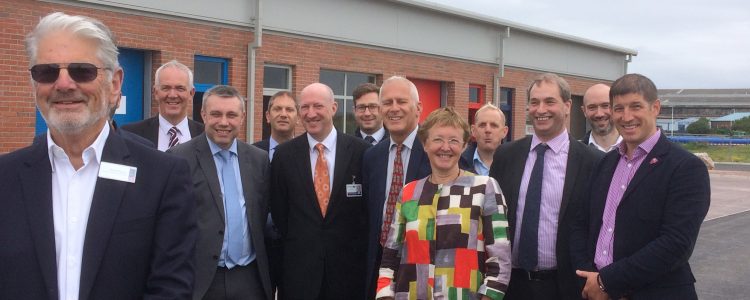 Enterprise Court, a new commercial development at the heart of the Blackpool Enterprise Zone, Blackpool Business Park, launched recently amid a fanfare of fish & chip fryers and fizzy pop in traditional seaside style!
With 6 out of 12 units already reserved off plan, some of the new owner/occupiers joined developer Lanceshire Ltd, Business and Government VIPs, Local Councillors and representatives from Robert Pinkus & Co, the letting agents, on site to take a first look at the units.
Attendees included: Robert Pinkus of developer Lanceshire Ltd, Rob Green from Blackpool Wyre & Fylde Economic Development Company, Cllr Gordon Marsden MP Blackpool South, Nick Gerrard Chief Planning Officer, Cllr Mark Smith Blackpool Council's Cabinet Member for Regeneration, Enterprise and Economic Development, Baroness Jo Valentine and Andrew Charles from Business in the Community (BITC) and representatives from main contractor Cox and Allen (Kendal) Ltd.
James More, one of the world's leading and most viral illusionists is one of the new unit owners and will be making Enterprise Court his base as he tours the world with his live magic show. James who couldn't attend on the day due to touring commitments said, "Enterprise Court provides me with secure, modern storage for the growing amount of props and equipment needed for my live illusions. The property is in a fantastic location and the added benefit of 0% business rates made it an attractive proposition."
Phase 1 Enterprise Court which has taken just over seven months to complete, comprises 12 small business units each of 750 sq ft suitable for workshop, warehouse and office use and come with a mezzanine option.
Danny Pinkus, Partner at Robert Pinkus & Co. said, "We are extremely excited to be part of the Enterprise Zone which is on track to become a centre of excellence for the energy sector. Initial interest and take up of the units has been fantastic and we continue to receive a lot of enquiries about the scheme. The units are an affordable, attractive new addition to the commercial market in the local area and also represent excellent buy-to-let investment opportunities in a highly desirable, established employment zone."
Rob Green, Head of Enterprise at Blackpool, Fylde & Wyre Economic Development Company said, "I am delighted to see the new development finished and open for business which is a great contribution to the future success of the Enterprise Zone. I am on hand for prospective occupiers that need support in applying for the Enterprise Zone business rates relief."
Cllr Mark Smith, Blackpool Council's Cabinet Member for Regeneration, Enterprise and Economic Development said, "I'm delighted to hear that the new units are already proving very popular attracting new small businesses to the area, creating jobs and boosting the local economy. The construction shows real commitment from the developer to the Enterprise Zone and we look forward to the development of future phases in line with Blackpool Council's key economic strategy and attracting further investment to the area."
The Blackpool Airport enterprise Zone is a 144 hectare site incorporating the existing Category III airport and surrounding commercial areas. It has the potential to attract up to 140 new businesses and 3,000 high-tech jobs over the next 25 years and this means that for owner/occupiers of the new Enterprise Court units, subject to qualifying criteria, they will benefit from business rate exemption up to £75,000 over a five year period, or generous capital allowances to businesses making large investments in plant and machinery.
The units are each available at a sale price of £89,500 + vat and can be reserved immediately by paying a nominal reservation fee. There are also opportunities to buy through a Self-Invested Personal Pension (SIPP) which offers additional, attractive benefits to investors."
For further information please contact the Agency team at Robert Pinkus & Co. LLP on 01772 769000.
Share this article
Back To All News