Momentum @Cuerden – New Business Development Launches
Posted on 23rd October 2017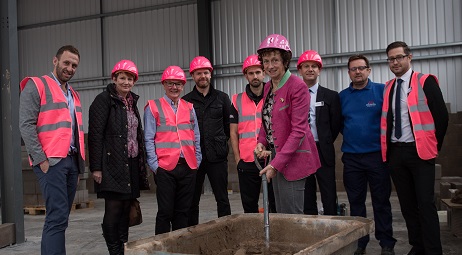 An open day was held on Friday at Momentum @Cuerden, Bamber Bridge, to celebrate all the units in Phase 1 of the development being sold off plan.
Some of the new prospective owners met with local dignitaries, VIPs and business leaders who turned out to show their support for the scheme and to take a first look at the progress being made on the development by Roundhouse Properties. Work on the 15,550 sq ft site is well underway and the first units will be ready for occupation by March 2018.
Jeremy Lefton of Roundhouse Properties said, "The development at Momentum @Cuerden has been a resounding success with demand far outweighing supply, so much so, we already have a waiting list for Phase 2."
The first phase of the development comprises 22 flexible units starting from 650 sq ft, suitable for industrial, warehouse, office and storage and distribution (B1, B2 & B8), or a combination thereof. The development is located at South Rings, Bamber Bridge, 0.25 miles from the M6, 0.5 miles from the M65 and 2.6 miles from the M61. It also benefits from being part of the wider Cuerden Strategic Site, which is one of the best emerging, mixed-use developments in the Lancashire region.
Danny Pinkus, Partner at commercial property consultants Robert Pinkus & Co said, "We are extremely excited to be marketing Momentum @Cuerden and delighted that the development is been driven forward by occupier demand. As part of the Cuerden Strategic Site, Momentum and its occupiers will benefit from the planned growth and investment right on its doorstep and as the site becomes more established, large scale occupiers and strategic occupier interest will ultimately follow."
Guests at the event also took the opportunity to find out more about Phase 2 that's already in the pipeline. Phase 2 will comprise a further series of 15 units:
3 x 750 sq ft
6 x 850 sq ft
6 x 900 sq ft
Phase 2 is planned for release at the end of October 2017 and will be ready for occupation in May 2018. Prices will start at £94,500 and work is expected to commence in January. For further information about availability at Momentum @Cuerden please contact Jeremy Lefton at Roundhouse Properties on 01772 312579 jeremy@roundhouseproperties.co.uk or Danny Pinkus at Robert Pinkus & Co on 01772 769000, danny@pinkus.co.uk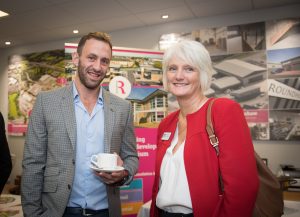 Jeremy Lefton, Roundhouse Properties & Heather McManus, Chief Executive, South Ribble Borough Council
Share this article
Back To All News