Kirkham Shop To Let
Posted on 15th April 2015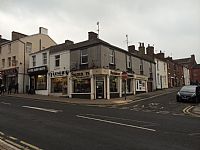 An end-terraced, corner property is now available to let in the heart of Kirkham town centre.
Located in a good, central, trading position fronting Poulton Street, Kirkham's main high street, at its junction with Clegg Street, the property offers ground floor sales of 571 sq ft along with further ground floor storage and first floor office space.
Maintained to a good standard, the property offers a 3 metre wide shop front looking onto Poulton Street with a fully glazed timber shop front. Other occupiers in the vicinty include Morrisons, Subway, Poundstretcher and NatWest to name a few.
The quoting rent is £12,500 per annum and all enquiries should be made to Mark Harrison on 01772 769000, mark@pinkus.co.uk
Share this article
Back To All News