For Sale: Terrace of Garages, Preston
Posted on 23rd November 2015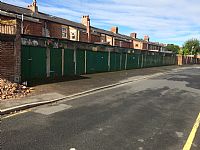 Sat Nav: PR1 3RX
A terrace of 16, timber-framed garages in the heart of Avenham, Preston are for sale.
Located fronting Berwick Road, the area is predominately residential however there are a number of isolated commercial units in the vicinity. The city centre is approixmately 0.24 miles to the north of the subject site.
The garages are contained beneath an asbestos sheet roof and access to the garages is via a timber door with an internal concrete floor.
The sale price is £60,000 and all enquiries should be made to Mark Harrison on 01772 769000.
Share this article
Back To All News