Better Bathrooms Taps into Edinburgh Market
Posted on 21st September 2015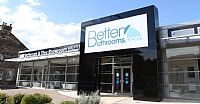 We are pleased to announce that award-winning Better Bathrooms, the largest independent bathroom and tiles retailer in the UK, has opened its first Scottish showroom in Edinburgh.
As part of the company's progressive expansion plans, the new showroom at 454 Gorgie Road, will be the company's 9th showroom in the Better Bathrooms' portfolio, trading alongside other successful showrooms in Cardiff, Romford, York and online at www.betterbathrooms.com. The Edinburgh showroom has created 10 new jobs for the area.
Leigh-based Better Bathrooms (UK) Ltd. takes the 23,495 sq ft former VW car showroom on a new lease from Volkswagen Group Ltd. Colliers acted on behalf of the Volkswagen Group and Robert Pinkus & Co. acted on behalf of Better Bathrooms.
The Edinburgh showroom manager Andrew Turner said, "I am extremely thrilled and excited about the new Better Bathrooms showroom in Edinburgh. We offer the largest selection of bathrooms and tiles at an unbeatable price to the capital of Scotland. I feel very honoured to be taking on the store with what I can only describe as an enthusiastic, helpful and determined team and I think I speak for all of us when I say we cannot wait to help our customers create their dream bathroom."
CEO and founder Colin Stevens said, "It is great to be opening our new concept bathroom and tiles megastore in Scotland, customers can now buy online at Betterbathrooms.com and visit our new showroom in Edinburgh, where they can touch and feel over 3,000 products that are on display. I am convinced that the people not just of Edinburgh, but all over Scotland will come to our showroom because of the wide range of choice available and with our Price Promise, we guarantee to beat any price. I am really excited as this will be our best store yet, nothing comes close to it in the area."
Robert Pinkus & Co. are Better Bathrooms' sole property agent for their new store acquisition drive. The search for new retail sites continues with the well-established, well-funded company looking to secure properties from 15,000 to 20,000 sq ft over maximum two floors in highly visible, easily accessible, non-prime retail locations throughout the UK.
In 2007, Better Bathrooms' annual turnover stood at just over £1m and in the last financial year the turnover was £49.5m. The company aims to double their growth over the next three to five years and the Edinburgh store will be a big part of this. The sector leading company, has won 27 awards and has been recently shortlisted in the 2015 Lloyds Bank National Business Awards, in the UKTI Growth Business of the Year category and in the Employer of the Year category.
To submit premises for consideration or to find out more about Better Bathrooms' target locations please contact Joe Assalone on 01772 769000 or email joe@pinkus.co.uk. For more information about Better Bathrooms please go to www.betterbathrooms.com
Share this article
Back To All News